Amazingly, I have been asked several times to provide cover blurbs. It was, of course, flattering but I had to wonder what good it would do as I am hardly a household name, not even in my own household. My guess is that these authors or their editors were desperate to fill up space with a few laudatory words written by a published, albeit unknown author.
Over the years, I've managed to get a few good blurbs myself. My novel, "Milliard Fillmore, Mon Amour," published by St. Martin's Press, sports the following words of praise by two fairly well known people: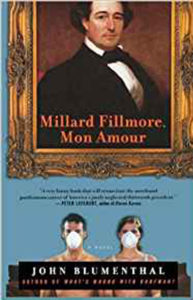 Carl Reiner: "Millard Fillmore is a deliciously goofy and involving story. This Blumenthal guy is one funny novelist."
Larry Gelbart: "Even though two words of this book's title are in French, I understood and enjoyed not only the other two, but every single one that appears between its covers. That's because John Blumenthal has a way with words. A wise and a very funny way indeed."
There were several more but these were written by the two most renowned humorists, although one must wonder whether Reiner and Gelbart actually read the book. I'm guessing no, especially Gelbart, whose first sentence about the cover is a bit suspicious.
Havng been pals with Nora Ephron when we both worked at Esquire in the 1970s, I wrote to her to ask for a blurb for the same novel. I still have her reply:
"Dear John Blumenthal: Of course I remember you, although I don't remember the end tables. I feel bad that I don't remember the end tables. But I definitely remember your going off to Playboy—and a couple of years ago I read a very funny book you wrote called Dorfman something or other. Anyway, here's the thing: I don't give blurbs and gave it up almost befoe you were born (when my vet asked for one).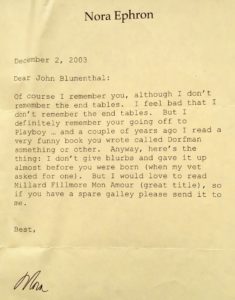 But I would love to read Millard Fillmore, Mon Amour (great title), so if you have a spare galley, please send it to me. Best, Nora."
I was amazed that she remembered me because, at the time, I was only a lowly 23-year-old fact-checker and she was already famous. Oh, and I am 100% certain that I gave her my end tables. How could she have forgotten that? They were genuine plastic.