From: Publishers Weekly:
Built in 1905, six years before the area's first film studio began operations, Hollywood High was nicknamed "The Star Hatchery" in 1936the year Judy Garland, Mickey Rooney, Lana Turner, Marge Champion, Nanette Fabray and Alexis Smith were all on campus at the same time. A student publication, The Hollywood High School News , was launched in 1918, and the author taps into its rich mine of forgotten filmland trivia. In 1950-51 the News was edited by Carol Burnett who also c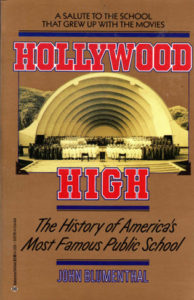 ontributed a sophomoric humor column: "ETIKUT: Its sorta considered good taste when you sorta bump sumone in the hall
to go back and pick 'em up." Burnett introduced a series of interviews with alumni-turned-movie stars, which was discontinued when it was discovered she was writing the pieces on class time. Along with numerous appealing anecdotes,Blumenthal ( The Tinseltown Murders ) gathers recent reminiscences from celebrities who look back on their high school days with nostalgia and embarrassment. "I just wanted to blend in with the wall," recalls a once-shy Linda Evans. "I didn't want anyone to notice me too much because I was very shy." Yvette Mimieux: "I hated it. Classrooms are prisons." Blumenthal's profile of the late Rick Nelson suggests he is unaware that Nelson was famous as a child radio actor prior to his TV debut, but this is a minor oversight. This carefully researched, amusing chronicle also has value as an historical record of the 20th century as viewed through the eyes of American teenagers. Illustrated with yearbook photos.